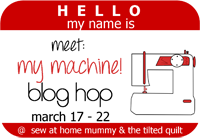 So, my machines…here they are!
First off, meet Whizzy, my Husquvarna Viking Mega Quilter.  She's a super duper heavy duty, industrial straight stitch-only machine.  Stitches like a hot knife through butter, at 1600 stitches per minute- just what I need for speedy, smooth piecing, and lightning fast free motion quilting.  I really love this machine because it is everything I love about an old, vintage machine (weighs a ton, solid as a rock, no fancy-schmancy, overly fussy plastic computerized stuff), but with all the essential bells & whisles I love about a new machine, like my automatic thread cutter, my needle down option, speed control, knee lift presser foot.  Actually, I never use the knee-lift feature, but I should.  It's cool. :)
Next up:  Helen, my beloved 1944 Singer Featherweight, who I named after both of my grandmas.  I love this thing!  I just purchased it a couple of monthes ago and have already finished several large projects on it- primarily because it's so light and portable, that I've actually been keeping it up in the dining room, as well as toting it along to events like guild meetings, QuiltCon, and this week it's coming with me to
Sew South
!  My husband, Russell, actually stitched his entire
first quilt ever
on this machine as well.
I also have a couple of other vintage machines.  Honestly, I rarely use them these days, but I love them all the same, and can't imagine them not keeping them company in my sewing room.
This first one is a Montgomery Ward Signature machine that I picked up at a yard sale for $15 because I LOVE LOVE LOVE the color.  Isn't it just pretty?  I've actually made many a project on this one, and also had it on set with me during all the Craftsy video shoots to add some homey atmosphere.
Lastly, there's my old Calanda Zig-O-Matic.  I rescued this old girl from a dingy thrift store for a few bucks, and gave her a happy new home :)  Her first project was my modern mini, since my Viking only does straight stitch, and I'd decided to do some zig-zag applique for that one.
Be sure to stop on over and visit all of the other stops on the blog hop as well.  What a fun way to get aquainted with some new blogs and friends. :)
And before I sign off here, I must announce the winner of the March Sugar Block $75 Fat Quarter Shop Giveaway!!!  Congrats to our random winner, DEBBIE WEISHAAR!!!  Great job getting your blocks done, and I'm so delighted to hear that you're involving your grandson in your quilting!  Enjoy your gift certificate!